Toronto Backyard Chicken Pilot
Toronto Backyard Chicken Pilot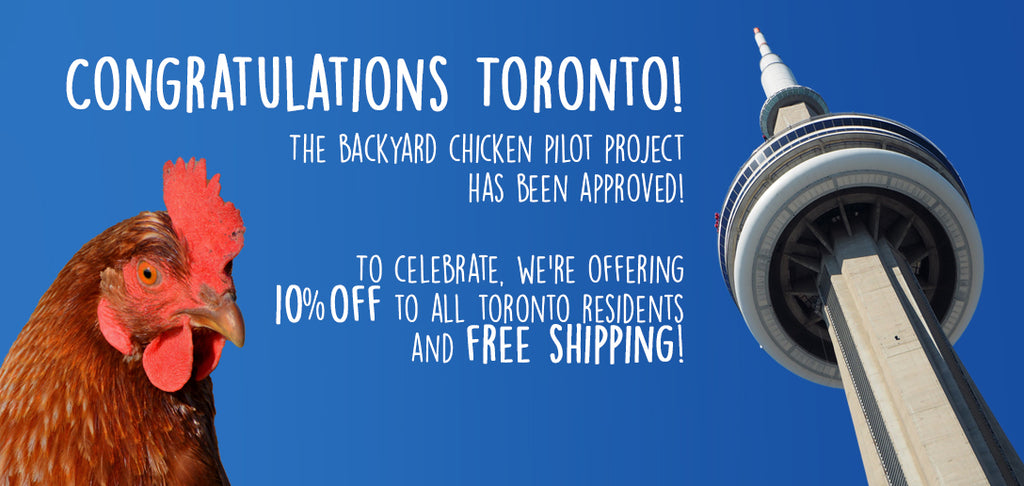 Great news Toronto! In certain wards, backyard chickens are allowed as part of a city-run pilot project.
To celebrate, we are offering 10% off your coop order and free shipping to all residents of Toronto. Just use discount code TORONTOPILOT and select "Free shipping 150km of Toronto" on checkout. This offer runs for the month of October.
Here are the details of the pilot project. If you have any questions about chicken keeping, drop us a line! 1-877-672-4755
Toronto Backyard Chickens Pilot Project:
1. Notwithstanding that chickens are currently on the List of Prohibited Animals in Toronto, City Council authorize the Executive Director, Municipal Licensing and Standards to develop and implement a pilot program as soon as possible and at least prior to the end of October, 2017 permitting backyard hens in Wards 5, 13, 21 and 32 for a period of up to three years from the date of implementation, with an interim review after 18 months. Such pilot program is to include the following conditions:

a. participants in the pilot program must register, as directed, with the City and must be the owner or lawful occupant of the property;

b. only residential properties are permitted to be registered. Neither apartment buildings, condominium buildings, nor properties without sufficient outdoor space to house the hens, as determined by the Executive Director, Municipal, Licensing and Standards will be permitted;

c. limit of four backyard hens per property;

d. participants agree to permit City staff to attend and inspect the property as deemed necessary to fulfill the purposes of the pilot program, and compliance with applicable bylaws;

e. participants shall agree to terms and conditions satisfactory to the Executive Director, Municipal Licensing and Standards prior to keeping hens on the owner's property;

f. no roosters are permitted;

g. participants must comply with Chapter 349, Article III, Care of Animals and all other applicable laws;

h. hens must remain on the owner's property, and further, any hen found off the property of the owner will be considered at large in the City; and

i. the eggs produced are for personal consumption. The sale, or offering for sale, or any other type of distribution is prohibited.